The Asian part of the Ottoman Empire and Russia in the Caucasus, Colton 1855

[Maps]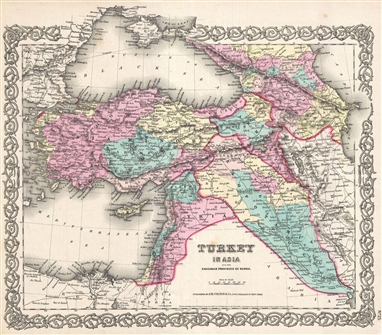 Map title
The Asian part of the Ottoman Empire and Russia in the Caucasus, Colton 1855
Description
The title is 'TURKEY IN ASIA AND THE CAUCASIAN PROVINCES OF RUSSIA'
---
Framed are: the Eastern part of the Balkans, the Black Sea and the Crimea as far south as the Nile Delta and Cairo and NW Persia (Tabriz etc.); not in details, not colored. Marked in red are only the Straits: the Dardanelles and the Bosphorus.
---
Main subject, in three colors and very clearly marked: the Asian part of the Ottoman Empire and her administrative divisions (in "Eyalet") from the Sea of Marmara and "Anadoli" to the Black Sea and the NE borders "Trebizond" and "Kars" all the way down, through Ottoman Armenia, to Mesopotamia, Syria and the East Mediterranean with the Eyalets of: "Bagdad", "Rakka", "Aleppo" etc., "Adana" and the island of Cyprus.
---
Secondary subject but nevertheless colored, very clearly marked and in full detail: the Caucasian lands between the Black Sea and the Caspian conquered by the Russian Empire during the first half of the 19th c. Included are (in modern terms) the five Autonomous Caucasian Republics of the Russian Federation as well as Georgia, Armenia and Azerbaijan.
Publisher
J.H. Colton & Co (No 172 Williams Street, New York)
Place of publication
New York
Key words
Adana, Vilayet / Province of Adana.
Aleppo, Vilayet of Haleb.
Amida / Diyabakir / Diyarbakır.
Anatolia, Central Plateau.
Ankara, Vilayet / Province of Ankara.
Aydin, Vilayet / Province of Aydin-Smyrna.
Black Sea / Euxine Pontus.
Bursa, Vilayet / Province of Bursa.
Northern / Upper Mesopotamia.
Trebizond, Vilayet of Trebizond.