Metin Vidinli, the owner of the fish-shop at the Gelibolu port

[Photos]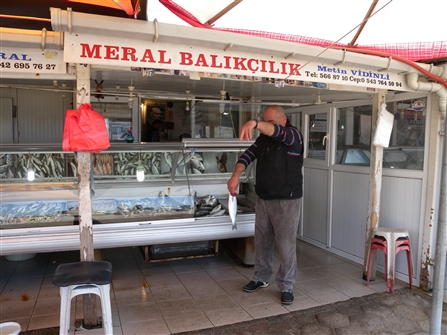 Title
Metin Vidinli, the owner of the fish-shop at the Gelibolu port
Description
Gallipoli / Gelibolu photo 118. His family came from Vidin, the river-port on the Danube (NW Bulgaria, near the Bulgarian-Serbian frontier and a mile away from the Rumanian shore). The Balkan's refugee history is a long drama of the past century. The Vidinlis were accustomed with the life of their vivid Danubean port; they knew the art of fishing; but they had never seen the see. And the Marmara is quite a different environment.
---
Nevertheless they started again their life as fishermen, they established a well-known shop in the Fish Market and they kept the memory of their frozen motherland in the family name: Vidinli means 'someone who came from Vidin'. The coming generations will remember.
Key words
Eastern Thrace / European Turkey.
Thracian peninsula / Gallipoli peninsula.