Inscription of 1948 above the main entrance

[Photos]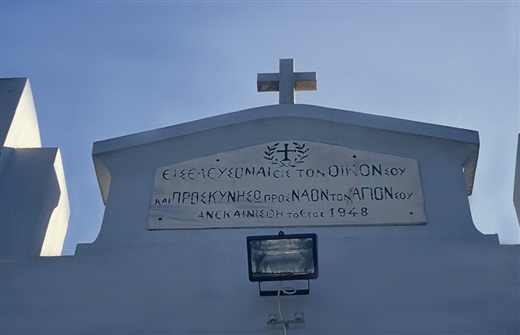 Title
Inscription of 1948 above the main entrance
Description
Panaghia of Prinkipo (Church of the Dormition of the Mother of God, Büyükada) phot 210. Inscription for the renovation of the church in 1948, located above the main entrance, which is situated on the N side of the church. The text (in Greek): «ΕΙΣΕΛΕΥΣΟΜΑΙ ΕΙΣ ΤΟΝ ΟΙΚΟΝ ΣΟΥ / ΚΑΙ ΠΡΟΣΚΥΝΗΣΩ ΠΡΟΣ ΝΑΟΝ ΤΟΝ ΑΓΙΟΝ ΣΟΥ / ΑΝΕΚΑΙΝΙΣΘΗ ΤΟ ΕΤΟΣ 1948».
---
A painted cross decorates the upper part of the inscription while a cross (carved on stone) decorates the top of the pediment (the triangular space above the entrance).
Key words
Büyükada island / Pringipos island.
Inscription / inscriptions.
Istanbul, Orthodox churches.