Main targets of the September 1955 Istanbul Pogrom

[Maps]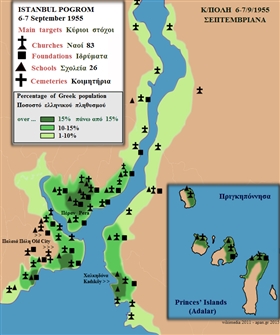 Map title
Main targets of the September 1955 Istanbul Pogrom
Description
Χάρτης-σκαρίφημα της Κ/Πολης, ευρωπαϊκής και ασιατικής, και των γύρω προαστίων (στον Βόσπορο και στη Θάλασσα του Μαρμαρά) μέσα στα όρια της περιφέρειας όπου επιτράπηκε να παραμείνουν οι Ρωμιοί κάτοικοι μετά το 1923 (Συνθήκη Λωζάννης για την Ανταλλαγή των Πληθυσμών μεταξύ Τουρκίας και Ελλάδας).
Map series
Σεπτεμβριανά 1955 χ 01 / September Pogrom, 1955, m 01
Place of publication
Athens
Languages
English and Greek
Key words
Bosphorus / Bosphoros / Bosporos.
Greek Orthodox Community of Istanbul.
Istanbul, Greek Orthodox cemeteries.
Istanbul, Orthodox churches.