Bizye / Vize ιν 1996: Part of ancient theatre (1st-2nd c. AD)

[Photos]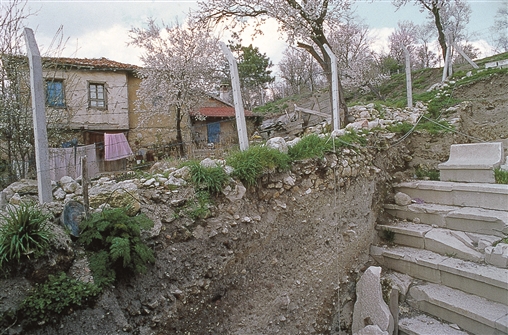 Title
Bizye / Vize ιν 1996: Part of ancient theatre (1st-2nd c. AD)
Description
Bizye (Turk. Vize). Part of the ancient theatre (1st-2nd c. AD) came to light in the summer of 1995, a few days after excavations began in this neglected town of Eastern Thrace, which degenerated into a wretched village for Muslim refugees from the rest of the Balkans after the Exchange of Populations in 1922.
---
The small group of students from the Faculty of Letters and Sciences of the University of Trakya in Edirne, under the direction of Dr Özkan Ertuĝrul, comprised the first organized archaeological mission to Bizye – though they were not the first to excavate, since looters had already dug at the site.
Key words
Eastern Thrace / European Turkey.
Roman period, Imperial age.