Vize: Marble seats of the ancient Theatre (1st-2nd c. AD)

[Photos]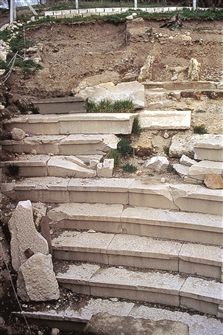 Title
Vize: Marble seats of the ancient Theatre (1st-2nd c. AD)
Description
Bizye (Turk. Vize) photo 15a. Marble seats of part of the cavea of the Graeco-Roman Theatre (1st-2nd c. AD) which came to light in the summer of 1995, a few days after excavations began in this neglected town of Eastern Thrace, which degenerated into a wretched village for Muslim refugees from the rest of the Balkans after the Exchange of Populations in 1922.
Key words
Eastern Thrace / European Turkey.
Roman period, Imperial age.