Varna, the church of Saint Athanasios: inscription of 1838 above the lintel of the exonarthex

[Photos]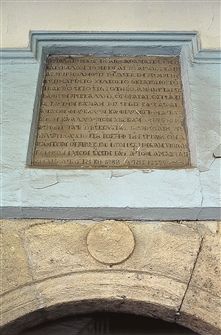 Title
Varna, the church of Saint Athanasios: inscription of 1838 above the lintel of the exonarthex
Description
Varna, St Athanasios (Sveti Atanasiy) at the Roman Baths, photo 20. The only remnant of the Medieval face of Varna (Byzantine, Bulgarian and Ottoman) is the site of the old cathedral of Saint Athanasios. Centre for the Greek community of Varna throughout the Ottoman period, the cathedral `was burnt down on the 15th of February' 1836, as described in an inscription above the lintel of the exonarthex, and `was rebuilt from its foundations beautifully as befitted its status, and glorifying Varna by the works of the good, Christ-loving men, both local and from elsewhere...'.
Key words
Arson, destruction by fire.
Athanasius / Athanasios of Alexandria, saint.
Inscription / inscriptions.