St Paraskevi in Tarabya on the Upper Bosphoros (in 2000): The dignified tomb of Sophronios Photopoulos (1845-1914), Archimandrite in Kishinev

[Photos]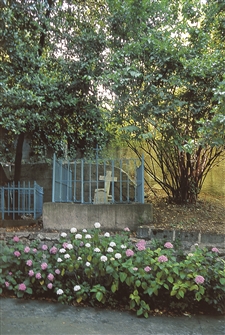 Title
St Paraskevi in Tarabya on the Upper Bosphoros (in 2000): The dignified tomb of Sophronios Photopoulos (1845-1914), Archimandrite in Kishinev
Description
Saint Paraskevi at Tarabya, photo 23a. In the leafy enclosure of the church of St Paraskevi at Tarabya / Gr. Therapeia (Constantinople's summer resort on the Bosphoros), descendants of the Phanariot aristocracy of the Danubian Principalities lie buried. Amidst the luxurious family monuments and the wonderful hydrangeas, is the dignified tomb of Sophronios Photopoulos (1845-1914), Archimandrite in Kishinev, who died in August 1914, just before the outbreak of World War I, which changed the geopolitical map of the Black Sea basin.
---
>>>>>>>>>>>> Kishinev ("Kisnobion" according to the Greeks of the 18 th c.) is modern Chişinău, the capital of the Republic of Moldova.
Key words
Istanbul, Orthodox churches.