Çanakkale, the Sultan's Castle (Kale-i Sultaniye)

[Photos]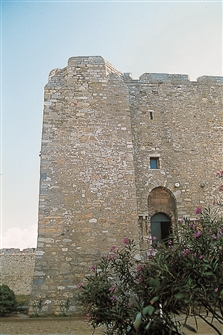 Title
Çanakkale, the Sultan's Castle (Kale-i Sultaniye)
Description
Çanakkale, Sultan's Castle (Kale-i Sultaniye) photo 05. This impregnable stronghold stands on the Asian shore of the Dardanelles, in the outskirts of the old see-port town Dardanellia (modern Çanakkale), at the narrowest point of the Straits. With 1,000 workers, Mehmed II the Conqueror built the Sultan's Castle (Kale-i Sultaniye) in 93 days. Strengthened by nine towers, the enclosure walls (150x100 m.) rise to 11 m. and are 5-7 m. wide. The dimensions of the four-storey inner fortress are: length 42 m.x width 28 m.x height 25 m. with walls 9.15 m. in thickness. The castle lies opposite an enormous stronghold, known as the Kilitbahir Castle, on the Thracian (European) shore; the distance between the two continents is less than a mile (approx. 1,200 m.). Both castles were used by the Ottomans until the First World War and the Gallipolis Campaign (in 1915).
Key words
Dardanelles / Hellespont.
Mehmet II, the Conqueror.