The rock-carved katholikon of the Soumela Monastery (1988)

[Photos]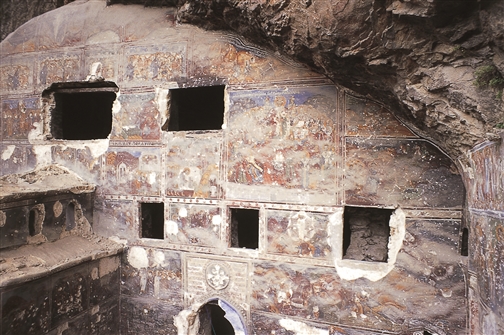 Title
The rock-carved katholikon of the Soumela Monastery (1988)
Description
Soumela Monastery, East Pontos phot 21. The rock-carved katholikon (main church) of the Monastery (in 1988). The sacred and numinous cave was decorated with wall-paintings in the reign of Alexios III Grand Komnenos (1349-1390). The layer of Byzantine paintings on the wall and the rock face was covered by new paintings during the course of the 17th and 18th c. In 1744, the church was extended outside to include a large narthex. Orthodox monks of Pontian origin who executed the paintings of 1686, 1712 and 1744 signed these works: "By the hand of Sabas from Oinoe", "Decorated by the monk-deacon Hierotheos".
Key words
Destruction of monuments.
Grand Komnenoi of Trebizond.
Sumela Monastery, Pontos.
Wall painting / Mural painting.