Two creeks flowing into the Golden Horn, Istanbul

[Maps]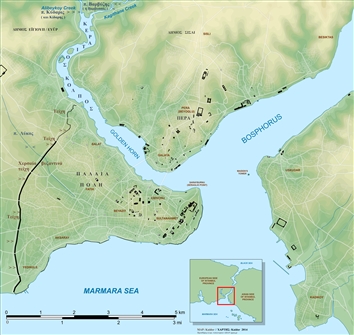 Map title
Two creeks flowing into the Golden Horn, Istanbul
Description
The map of historical Istanbul shows the confluence of two of the three creeks which flow into the Golden Horn / Haliç. On the left (NW) the small river Alibeyköy suyu or/and Alibeyköy Deresi (the Greek name was Κύδαρις (or/and Κίδαρης) / Kydaris; on the right (NE) is the small river Kağit-hane suyu or/and Kağithane Deresi (its Greek name was Βαρβύζης (or/and Βαρβυσσός) / Varvyzis or Barbezes.
Map series
Κωνσταντινούπολη / Istanbul
Languages
English. Greek toponymes added by apan.gr
Key words
Constantinople / Istanbul.