Makrochori Demolition 15

[Photos]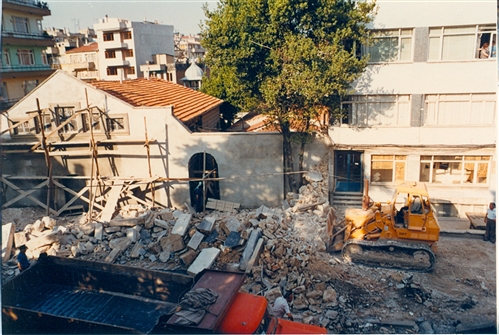 Title
Makrochori Demolition 15
Description
The demolition work is complete. The church of St. George has been reduced by seven meters, and not only the proportion but the very function of the demolished parts have been destroyed. The narthex was a transitional space which served to prepare those who entered. The church's main, central entrance was the next space which received the worshipper and ushered him or her into the House of God. The gallery was built as the space reserved for women and served at the same time to shelter the entrance and the entire west end of the three-aisled basilica. The gallery was an essential part of the architectural ensemble. Τhe columns which supported the gallery were at the beginning of the double colonnade which leads eastwards toward the sanctuary. The church of St. George, built in 1832, was not just any 'listed' monument. The partial demolition strikes deep into the heart of the very purpose for which the structure was built and subsequently used. Moreover, this act of destruction violates the religious rights of the Christian Orthodox Minority, which is unable to safeguard what it holds sacred when under physical threat from state-sanctioned vandalism. The photograph was taken on 13 June 1985, three months short of the thirtieth anniversary of the September pogrom of 1955.
Key words
Destruction of monuments.
Human rights – violations.
Istanbul, Orthodox churches.