The Hellespont, the Thracian Chersonese (Gallipoli Peninsula) and the Troad, engraving of 1798

[Maps]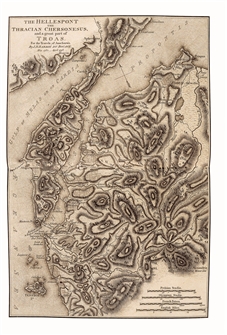 Map title
The Hellespont, the Thracian Chersonese (Gallipoli Peninsula) and the Troad, engraving of 1798
Description
The Hellespont / Strait of Dardanelles , the Thracian Chersonese (Gallipoli Peninsula) and part of the Troad. Marked are the ancient Greek cities and settlements, the rivers Scamander and Granicus, the hills on both sides of the Straits and the tumuli of the Homeric heroes Protesilaos, Achilles, Patroklos / Patroclus and Hector.
Map series
ΕΜΘ χ. 2 / GBS map 2
Place of publication
London
Key words
Asian Turkey, geomorphology.
Dardanelles / Hellespont.
Eastern Thrace / European Turkey.
Thracian peninsula / Gallipoli peninsula.
Thracian Sporades, islands.