The Euxine Pontus [Black Sea] and the Sea of Azov, engraving of 1799

[Maps]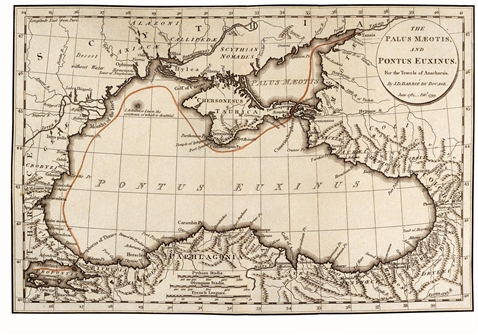 Map title
The Euxine Pontus [Black Sea] and the Sea of Azov, engraving of 1799
Description
The Black Sea, the Sea of Azov and part of the Propontis (Sea of Marmara). Also marked is the island of Leuke "I. Achilles-Leuce, the existence of which is doubtful", as noted by the cartographer in 1799 (although archaeological research began on the islet as early as 1796).
Map series
ΕΜΘ χ. 1 / GBS map 1
Place of publication
London
Year of publication
1806, 4th edition
Key words
Black Sea, Turkish coast.
Bosphorus / Bosphoros / Bosporos.
Cimmerian Bosporos / Straits of Kerch.
Eastern Pontus / Eastern Pontos.
Euxine Pontus / Black Sea.
Halys / Kızılırmak, river.
Paphlagonia, Asian Turkey.
Propontis / Sea of Marmara.