The Kingdom of Urartu, Anatolia and the Middle East in 721 BC

[Maps]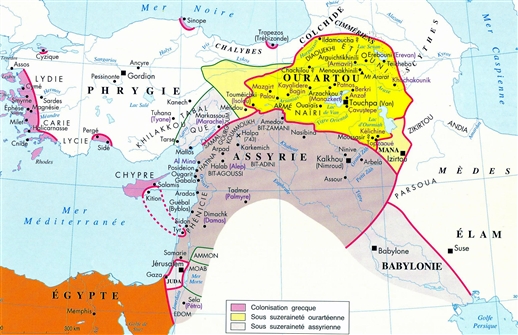 Map title
The Kingdom of Urartu, Anatolia and the Middle East in 721 BC
Description
Western Asia (from the Caspian to the Aegean Sea and from the south coast of the Black Sea to the Gulf, Jordan and part of Egypt) in 721 BC. Shown are the Kingdoms of Urartians, Assyrians, Phoenicians, and the Greek colonies in the eastern Aegean, Mediterranean, Sea of Marmara and Pontos. Areas represented in less detail: the Phrygian Kingdom, the kingdoms of Judaea, Transjordan and Cyprus.
Map series
Atlas Arménie (2001) p. 15 / m APAN 045
Publisher
Editions Autrement
Place of publication
Paris
Key words
Halys / Kızılırmak, river.
Yeşilırmak, river / Iris, river.