Alexander the Great's route from the Aegean to the Danube, through Thrace, 335 BC

[Maps]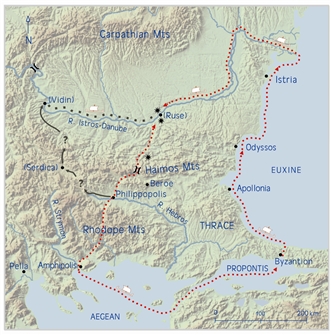 Map title
Alexander the Great's route from the Aegean to the Danube, through Thrace, 335 BC
Description
On the map, red marks the most likely route followed by the cavalry of Alexander the Great from the Aegean to the Danube, in May 335: Amphipolis, near the mouth of the Strymon – the Phalakron and Rhodope ranges – Philippoupolis, in the middle of the Thracian plain – the Shipka gorge and the Haimos pass – the River Danube, as far as present-day Russe in Bulgaria; and also the route of the fleet: Amphipolis – the Hellespont – the Propontis – Byzantion – the Bosphoros – the Danube Delta – sailing up the Danube and then down into the plain to meet the army. The length of the coastline between Amphipolis and the Danube Delta is approximately 1,250 km.
---
Also marked on the map is another possible route for the cavalry: from Philippoupolis via Serdica (Sofia) and Vratsa as far as Vidin on the Danube (instead of Russe). If, however, Alexander had wanted to avoid Philippoupolis and preferred to take the Triballoi by surprise, then the shortest route from the Aegean to the Danube would have been to follow the Strymon (Struma) basin up to the plateau of Sofia, travelling thence to Vidin via Vratsa. This natural passage, oriented northwards in a more or less vertical line, is the prehistoric metals route, as well as the route through which the horse entered the Balkans during the 3rd millennium BC, followed by invaders from the Carpathians and other Danubian regions with their eye set on the Aegean. Today it is known as the International Highway E79.
Publisher
The Panorama Cultural Society
Place of publication
Athens
Country of publication
Greece
Key words
Apollonia / Sozopolis / Sozopol.
Bosphorus / Bosphoros / Bosporos.
Euxine Pontus / Black Sea.
Evros, river / Hebrus, river.
Haimos / Balkan / Stara Planina, mountain.
Philippoupolis / Plovdiv.
Propontis / Sea of Marmara.