The Kingdom of the Mithridates VI of Pontos, engraving

[Maps]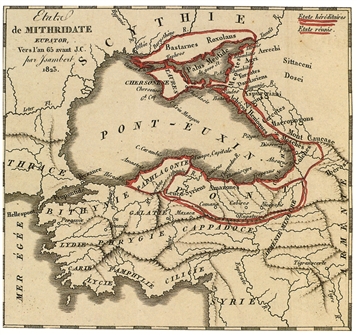 Map title
The Kingdom of the Mithridates VI of Pontos, engraving
Description
On this engraved map (1823) accompanying the French edition of Strabo's Geography, the Mithridatic Kingdom of Pontos is marked in red at its largest extent, during the reign of Mithridates VI Eupator.
Map series
ΕΜΘ χ. 40 / GBS map 40
Place of publication
Paris
Key words
Chersonessos Taurica / Cherson.
Euxine Pontus / Black Sea.
Kefe / Caffa / Kaffa / Feodosiia.
Paphlagonia, Asian Turkey.
Pontic Kingdom of Mithridates.