The Byzantine theme of Chaldia (East Pontos)

[Maps]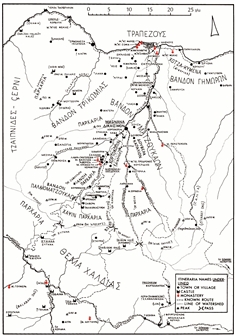 Map title
The Byzantine theme of Chaldia (East Pontos)
Description
This historical map depicts in every detail the central section of the Byzantine theme of Chaldia: from the Euxine coast (east and west of Trebizond) up to the mountain settlements, the castles and fortified monasteries of the Trapezuntine hinterland on the northern and southern slopes of the Pontic Alps, along the line of communication connecting Trebizond (the East Pontic metropolis) with the Armenian Plateau (the Plateau of eastern Anatolia), the Middle East and Central Asia. It gives dozens of Byzantine sites in the area, 15 monasteries (14 of them noted with a red cross), rivers and torrents, summits over 2,000 m., 'parharia' (the summer grazing grounds of the highlands), mountain paths and passes, castles along the shore as well as the borders of three 'banda' ('bandon' was a provincial administrative subdivision) of the theme of Chaldia. From North (the port of Trebizond) to South (the southern slopes of the Pontic Alps) the map covers an area of about 150 kilometers.
Map series
ΕΜΘ χ. 37 / GBS map 37
Languages
Greek for toponyms and names of monuments, such as monasteries and castles; Turkish (in parenthesis) for a few toponyms and castles
Key words
Byzantine fortifications.
Eastern Pontus / Eastern Pontos.
Kara Deniz Dağları / Pontic Alps.
Sumela Monastery, Pontos.