Tombstone on the grave of "ŞELEMO İLEL" (1931)

[Photos]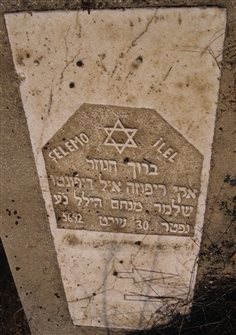 Title
Tombstone on the grave of "ŞELEMO İLEL" (1931)
Description
Cemetery of the Jewish Community of Adrianople / Edirne (destroyed) photo 08. One of the more recent graves is the grave of «ŞELEMO İLEL» (written with the new Turkish alphabet and not the Ottoman). The rest of the inscription is in Hebrew, from right to left, and the language is Ladino (spoken by the members of the Sephardim Community of the Orient). It reads: Aki reposa el difunto [Here reposes the late] Shelemar Menachem Hillel. He died on the 30th of Shvat [of the year] 5692.
---
Translated by ALMAS
Key words
Inscription / inscriptions.
Jews of the East / Levant.
Sephardic Jews / Sephardim.