Priestess' gold crown (detail), 4th c. BC

[Photos]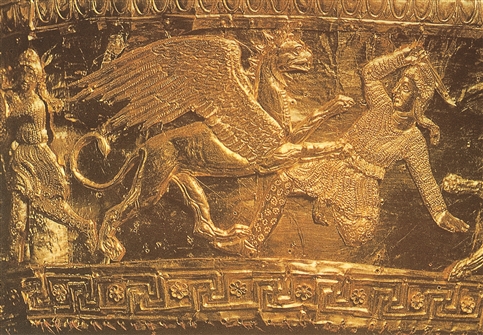 Title
Priestess' gold crown (detail), 4th c. BC
Description
Great Bliznitsa barrow. Detail of gold revetment decorating the ritual crown (kalathos) of the head priestess of goddess Demeter in the Kingdom of the Cimmerian Bosporos. Battle between the Arimaspoi (northern Scythians) and the griffins who guarded the Scythian gold. An outstanding example of the art of Greek goldsmiths from the 4th c. BC.
---
This is one of the finds from the Great Bliznitsa barrow, known as the Bolchaja Bliznitsa kurgan (a kurgan is a burial mound, found in all Scythian regions). It was discovered in 1865 on the Taman Peninsula (the east shore of the Cimmerian Bosporos – the Straits of Kerch), Russian Federation.
---
Hermitage Museum, St Petersburg
Key words
Cimmerian Bosporos / Straits of Kerch.