Gold ring of the 5th c. BC (from Ezerovo, Bulgaria)

[Photos]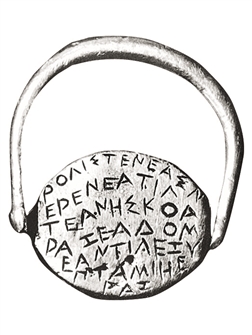 Title
Gold ring of the 5th c. BC (from Ezerovo, Bulgaria)
Description
Gold ring of the 5th c. BC. Grave good found in the village of Ezerovo in the northern Rhodope Mountains, in the valley of the Upper Hebros (Bulg. Marica). The goldsmith used the Greek alphabet (and language?) to record something probably associated with ancient Thracian civilization.
---
Archaeological Institute and Museum, Sofia
---
>>>> Bibliography at the Accompanying Material
Key words
Inscription / inscriptions.