A pair of silver-gilt liturgical fans (hexapteryga). Argyroupolis (Gümüşhane), 1745

[Photos]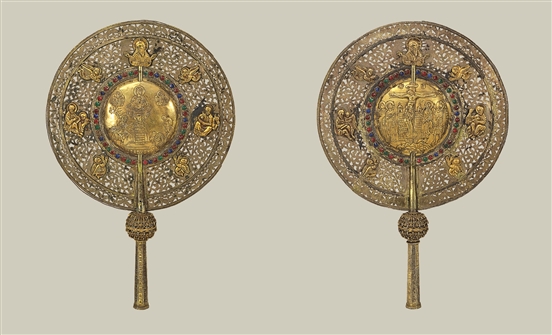 Title
A pair of silver-gilt liturgical fans (hexapteryga). Argyroupolis (Gümüşhane), 1745
Description
A pair of silver-gilt liturgical fans (hexapteryga): H. 50 cm., diam. 32.5 cm
---
Rivetted to the centre of the pierced-work disc of each fan is a large boss, each face of which is decorated with religious scenes in repoussé. On one of the fans is depicted the Crucifixion and the Resurrection, on the other the Dormition of the Mother of God and the Fountain of Life (Zoodochos Pege).
---
Veneration of the Zoodochos Pege was of Constantinopolitan origin and its incidence increased after 1727, the year in which repairs were carried out to the old Byzantine hagiasma (pool of miraculous waters) at Balıklı outside the Selymbria Gate; as a natural consequence of this, the iconographic type became more widespread. It is represented here in the austere form encountered in seventeenth-century icons, with the Virgin in bust emerging from the water basin (the phiale), around which stand pilgrims healed by its waters. The scene is dominated by the man possessed by a devil at the very moment the evil spirit is escaping from his mouth. The pierced-work vegetal motifs with hatched details derive from prototypes originating in the capital; essentially they imitate European silverwork, especially the decoration of valuable watch-cases much in vogue in seventeenth-century Constantinople. The style is common to articles produced by both Muslim and Christian craftsmen, but was especially associated with liturgical fans, which traditionally comprised pierced-work discs with interlaced floral motifs.
---
Refugee Treasure of the Collection of the Exchange of Populations, in the Benaki Museum, Athens (Benaki Museum, inv. no. TA 231) [Anna Ballian, 1990]
---
>>> See close-ups and details in the Accompanying Material
Key words
Argyroupolis / Gümüşhane.
Inscription / inscriptions.
Sumela Monastery, Pontos.
Zoodochos Pigi / Life-containing Source.