Plovdiv, church of Saints Constantine and Helen: Greek inscription of 1795 on a gravestone

[Photos]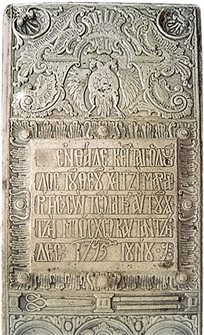 Title
Plovdiv, church of Saints Constantine and Helen: Greek inscription of 1795 on a gravestone
Description
Plovdiv, church of Saints Constantine and Helen photo xx. In the church of the aristocratic quarter of old Philippoupolis, this vivid town of Ottoman Northern Thrace, there are a lot of marble gravestones from the 18th and 19th c. located in the covered courtyard of the church. This inscription from the grave of two master tailors, reads «ΕΝΘΑΔΕ ΚΕΙΤΑΙ Ο ΔΟΥΛΟΣ ΤΟΥ ΘΕΟΥ ΧΑΤΖΗΜΑΡΓΑΡΙΤΗΣ ΣΥΝ ΤΩ ΠΑΤΡΙ ΑΥΤΟΥ ΧΑΤΖΗΜΠΟΣΧΩ ΚΑΥΤΑΝΤΖΗΔΕΣ 1795 ΙΟΥΝΙΟΥ 1» [`Here lies the servant of God, Hadjimargaritis with his father Hadjiboschos, kaftanzides; 1795, June 1.' ] Above the inscription: a double-headed eagle and below: the tools of the tailors trade.
Key words
Inscription / inscriptions.
Philippoupolis / Plovdiv.
Professional guild, guilds.