The Dardanelles in 1910 (extract B)

[Maps]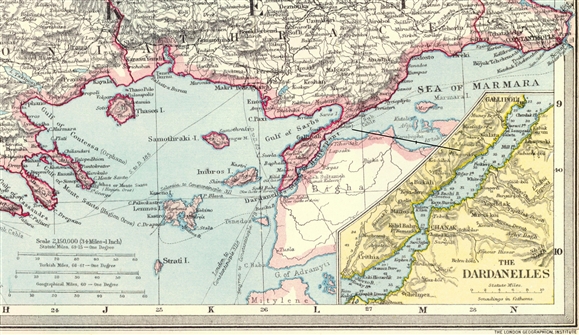 Map title
The Dardanelles in 1910 (extract B)
Description
The extract from the map "Turkey in Europe and the Balkans" in 1910 shows: part of Ottoman Thrace, between Constantinople and Eastern Macedonia (the island of Thasos and the Holy Mountain peninsula), the Thracian Archipelagos (NE Aegean) and the Dardanelles, with an insert map of the Straits at the bottom wright ("Soundings in fathoms").
Map series
Οθωμ. Αυτοκρατορία / Ottoman Empire
Place of publication
London
Key words
Dardanelles / Hellespont.
Eastern Thrace / European Turkey.
Edirne, Vilayet of Edirne / Vilayet of Adrianople.
Late Ottoman – Transitional period.
Raidestos / Raedestos / Tekirdağ.
Sea of Marmara / Propontis.
Thracian peninsula / Gallipoli peninsula.
Thracian Sporades, islands.