Rumeli Hisarı / Castle of Rumeli, engraving (1838)

[Illustrative material]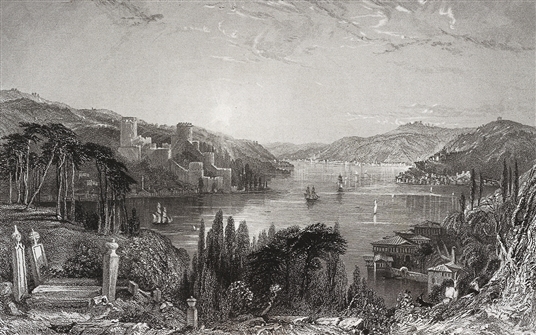 Title
Rumeli Hisarı / Castle of Rumeli, engraving (1838)
Caption of original
Rumeli Hisarı (the `Castle of Rumeli' also known as the `guillotine of the Boğazı'). Engraving, 1838. View towards the ottoman Castle from the Asian side of the Strait. The castle was built by Mehmed the Conqueror on the European shore of the Bosphoros at its narrowest point. When the work was completed on 31 August 1452, Constantinople was entirely cut off from the Black Sea. The siege began seven months later. For the Turks `Rumeli' was the term designating the European lands of the Ottoman Empire.
Type
Engraving: The Bosphoros and the ottoman Castle of Rumeli
Key words
Bosphorus / Bosphoros / Bosporos.
Constantinople / Polis / Istanbul.
Fortress of Rumelihisarı / Rumelihisarı.
Mehmet II, the Conqueror.