The winter ceremony of Anastenaria at Langadas (January 1977): the sacred 'dance' in the 'konaki'

[Photos]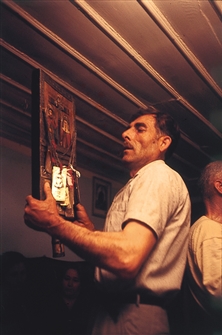 Title
The winter ceremony of Anastenaria at Langadas (January 1977): the sacred 'dance' in the 'konaki'
Description
Langadas (central Macedonia, Greece): The winter Anastenaria are celebrated in the `konaki' (konak = house), the focal point for the divinely inspired firewalkers during the feast of Saint Athanasios. Either holding the Anastenaria icons by a handle or with both hands, the Anastenarides dance in the `flames', singing about `The young Constantine, the little Constantinos' (a poem in the memory of the Byzantine Emperor and Saint Constantine the Great and the heroic figures of the defenders of the empire's border).
Key words
Athanasius / Athanasios of Alexandria, saint.
Saints Constantine and Helena.
Thrakiotes, Greeks of Thrace.