Anastenaria at Langadas (May 1977): the sacred 'dance' over live coals

[Photos]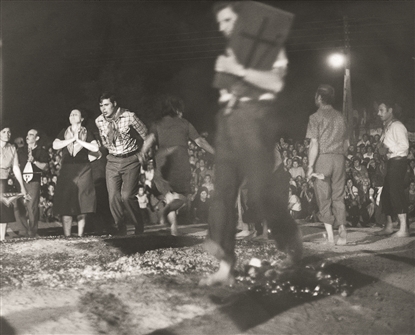 Title
Anastenaria at Langadas (May 1977): the sacred 'dance' over live coals
Description
The feast of Saints Constantine and Helena, May 1973, at Langadas (central Macedonia, Greece): The first generation of refugees from the Anastenaria regions of the Black Sea (the villages of Kosti and Brodivo on the Bulgarian-Turkish border) brought their holy icons with them and perform the ritual with children and grandchildren. Now, the head of the community, holding the holy Icon of the Saint, is dancing over the 'fired pathway'. He is barefooted as all the other Anastenarides around him who are waiting to 'step the fire' as they call this ecstatic part of the ceremony.
Key words
Saints Constantine and Helena.
Thrakiotes, Greeks of Thrace.