Samian amphora, mid-4th c. BC.

[Photos]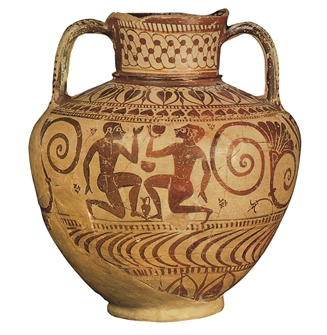 Title
Samian amphora, mid-4th c. BC.
Description
The central theme of the representation is a pair of komastes (revellers), drinking wine and taking part in a dance rite in honour of the god Dionysos. Found on the islet of Berezan (ancient Borysthenitis) at the entrance to the gulf of the Dnieper and Bug, near ancient Olbia. Berezan, the earliest Greek settlement in the North, has produced several vases from Chios, Rhodes and Samos, dating from the 7th-6th c. BC.
---
Hermitage Museum, St Petersburg
Key words
Ceramics, Archaic period.
Dionysus / Dionysos, god.
Euxine Pontus / Black Sea.