Hagiasma installation of St Catherine

[Photos]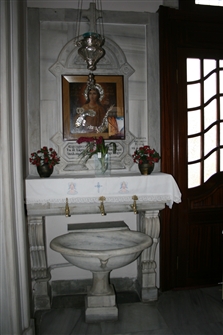 Title
Hagiasma installation of St Catherine
Description
Holy Trinity church in Chalcedon, phot 44, church. Holy water installation of St Catherine in the exonarthex of the church (on the S = right side). It consists of a white basin set on a low base, with three taps and a wide shelf for drinking cups. The construction is crowned by an icon of St Catherine above which oil lamps are hanging. To the right is just visible the dedicatory inscription refering to the names of the benefactor and the date of consecration: "Aikaterina Tsisnel / 25 November 1938" and "in memory of Eustratios, Angeliki, Erietta, Miltiades, Stephanos, Ioannes, Alexandros and Adela of the Rallis family".
Key words
Catherine / Aikaterine, saint.
Istanbul, Orthodox churches.