Dara, Upper Mesopotapia. Everyday scenes of a cattle-breading society

[Photos]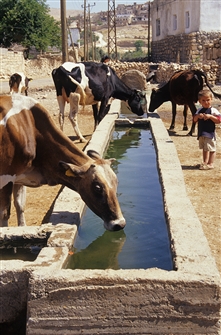 Title
Dara, Upper Mesopotapia. Everyday scenes of a cattle-breading society
Description
Dara, phot 050. At the modern part of the village, there is an open space which you could hardly name "square". Nevertheless, it plays the role of a square: it is the center of this Kurdish settlement. The public water is here, wool is being washed here (see photos), children are playing here etc., etc. And the cows are so thin!
Key words
Asian Turkey, South / Southern Turkey.
Northern / Upper Mesopotamia.