Ancient Greek colonies on the Dardanelles and the Sea of Marmara

[Maps]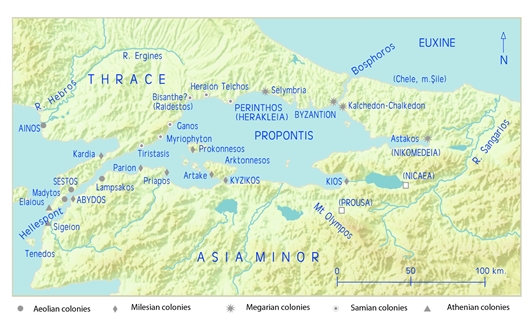 Map title
Ancient Greek colonies on the Dardanelles and the Sea of Marmara
Description
The most important colonies on both sides of the Hellespont / Dardanelles and the Propontis / Sea of Marmara (with their ancient Greek names): Archaic and Classical period, 700 - 300 BC.
---
On the European coast (Thrace / European Turkey), the Asian coast (the Troad peninsula and Bithynia / NW part of Asian Turkey) and the Marmara Islands, a cluster of small islands in the Propontis, between Europe and Asia. Also shown are the rivers: Hebros / Evros / Turk. Meriç (with the ancient Greek city Ainos / modern Enez at its eastern mouth, in the NE Aegean), Ergines / Ergene (tributary of the Hebros) and Sangarios / Sakarya (flowing through Bithynia in Asia Minor and debouching into the Black Sea).
---
Tenedos / Turk. Bozcaada, a small island located in the NE Aegean, appears as well. It is close to the Troad peninsula (dominated by famous Troy) and the entrance to the Dardanelles.
Publisher
The Panorama Cultural Society
Place of publication
Athens
Country of publication
Greece
Key words
Bosphorus / Bosphoros / Bosporos.
Dardanelles / Hellespont.
Doric city-states in the Propontis.
Eastern Thrace / European Turkey.
Evros, river / Hebrus, river.
Olympos of Bithynia, mountain.
Prokonnesos / Proconnesus / Marmaras, island / Marmara Adası.
Propontis / Sea of Marmara.
Raidestos / Raedestos / Tekirdağ.
Sakarya, river / Sangarios, river.
Sea of Marmara / Propontis.
Selymbria / Selybria / Selyvria / Silivri.
Thracian peninsula / Gallipoli peninsula.