Inscription dated 1994 about the renovation

[Photos]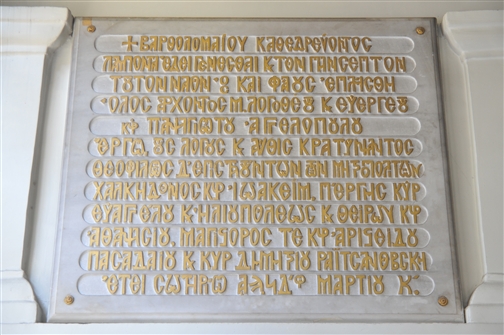 Title
Inscription dated 1994 about the renovation
Description
The Patriarchal Church of St. George phot 306. The inscription in the exonarthex commemorates the renovation of the Patriarchal Church of St George and was unveiled at the re-consecration on 20 March 1994 during the reign of Bartholomew. It refers to Patriarch Bartholomew and the other main figures involved in the project: the benefactor and "Megas Logothetes" Panayiotis Angelopoulos who paid for the costly project, Metropolitans Ioakeim of Chalcedon, Evangelos of Perge and Athanasios of Heliopolis and Theira, who supervised the work on behalf of the Holy Synod, the architect Aristeidis Passadaios and the historian of Byzantine art and professor of conservation Dimitrios Raisanovsky, members of the Patriarchal Court.
Key words
Angelopoulos, Panayiotis,entrepreneur.
Bartholomew, Ecumenical Patriarch.
Evangelos, Metropolitan of Perge.
Inscription / inscriptions.
Pasadaios, Aristeidis, architect.
Patriarchal Church of St George.