Lemnos, engraving, 1683

[Maps]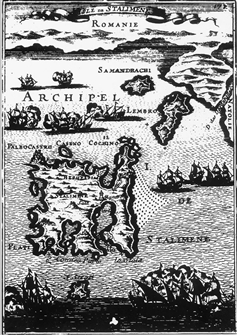 Map title
Lemnos, engraving, 1683
Description
The title of the French map is "Isle de Stalimene". At the map's center is the largest island in the Thracian Archipelago, Lemnos (marked "Stalimene"), located on the Northeast Aegean sea route to the Propontis and the Euxine Pontus; 11 nautical miles from Imbros (marked "Lembro") and 34 nautical miles from the entrance to the straits known as the Hellespont or Dardanelles (marked "D. des Dardanelles").
---
On the right, a small section of the Troad Peninsula (marked "Anatolia") is shown, while the Aegean side of Thrace is noted as "Romanie". Samothrace (marked "Samandrachi") appears close to the Thracian coast. The Thracian Archipelago is called "Archipel de Stalimene". Sailing ships are shown cruising the sea, but the islands of Agios Eustratios (Hagios Eustratios) and Tenedos, also part of the Thracian Sporades, are not depicted.
Map series
ΕΜΘ χ. 3 / GBS map 3
Key words
Dardanelles / Hellespont.
Imbros / Imvros / Gökçeada.