Claudius Ptolemaeus / Ptolemy, Geography: Asia III, Colchis – Great Armenia – Mesopotamia (reconstruction 1466)

[Maps]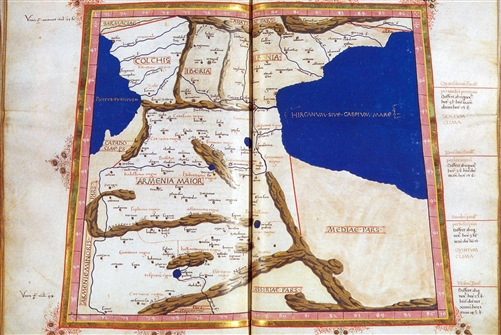 Map title
Claudius Ptolemaeus / Ptolemy, Geography: Asia III, Colchis – Great Armenia – Mesopotamia (reconstruction 1466)
Description
From the eastern Black Sea coast ('Pontus Euxinus'), modern Georgia, Armenia, Azerbaijan and the W of the Caspian See ('Hircanum Sive – Caspium Mare') to Eastern Anatolia (E Turkey), NW Iran and the Upper Euphrates. Ancient provinces mentioned: Colchis, Iberia, Albania (modern W Georgia and Azerbaijan), Cappadociae (part of E Pontos), Armenia Maior, part of Mediae, part of Assiriae.
Map series
Atlas Arménie (2001) p. 95 / Ptolemy, Geography: Asia III / m APAN 051
Key words
Aras River / Erasx / Araz / Araxes.
Black Sea / Euxine Pontus.
Claudius Ptolemaeus / Ptolemy.
Roman period, Imperial age.