Gate of the Kantakouzenos mansion, general view

[Photos]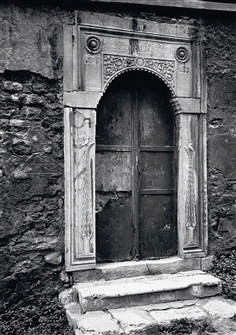 Title
Gate of the Kantakouzenos mansion, general view
Description
Fener: Gate of the Kantakouzenos mansion, phot 001. General view of the marble gate dated 1733, which is embodied into the outer fence of the Ioakeimeion High School for Girls (Ioakeimeion Parthenagogeion).
---
It is located on the left side of the street with the staircase leading from the Fener to the heights of the neighborhood and the church of Mouchlio.
---
Three marble steps (probably from the original construction) and the marble frame of the entrance richly decorated with the cypress trees, the floral reliefs of the lintel, the two rosettes and the inscription on the upper part of the gate. See also phot: the upper part of the gate, detail.
Key words
Cantacuzenoi / Kantakouzenoi, Ottoman officials.
Inscription / inscriptions.