Fener: Marble gate of 1733, decorations and inscription

[Photos]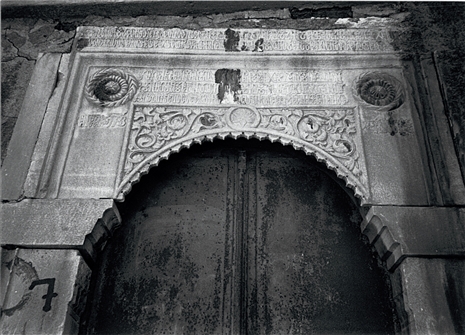 Title
Fener: Marble gate of 1733, decorations and inscription
Description
Gate of the Kantakouzenos mansion in Fener, phot 002 detail. View of the upper part of the marble gate dated 1733: the floral decoration of the lintel and the inscription which is divided in five lines; the first two lines are carved in the upper part and cover the whole space of the marble frame; the other three are written between two rosettes which decorate the left and right side of the lintel. The rosettes are encircled by laurel leaves and stuffed with flowers.
---
The text is written in capital letters. The chronological data, divided in two parts, is written under the rosettes. On the left we read 'in the year of grace 1733' and on the right 'in the month of July.'
Key words
Cantacuzenoi / Kantakouzenoi, Ottoman officials.
Inscription / inscriptions.
Ioakeimeion Parthenagogeion, School for Girls.