Bizye, late 9th c. Rare seal from the Middle Byzantine period

[Photos]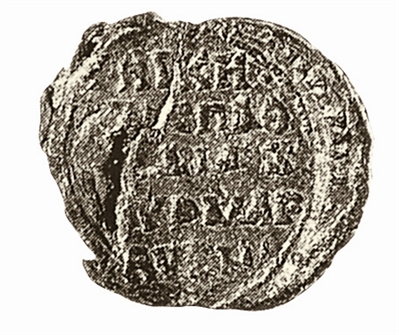 Title
Bizye, late 9th c. Rare seal from the Middle Byzantine period
Description
Vize / Bizye, photo 050. Seal from the Middle Byzantine period: `Lord, assist thy servant Nike[phoros], imperial spatharokandidatos and tourmarches of Bizye' and the Greek original: «Κύριε βοήθει τω σώ δούλω Νικη[φόρω] βασιλικώ σπαθαροκανδιδάτω και τουρμάρχη Βυζήης». If the reading `Nikephoros' is correct, the seal belonged to the military who became administrator (commander) of the region in 896, immediately after the invasion of the Bulgarian forces in Eastern Thrace and the victory of Tsar Symeon at Bulgarophygon (modern Babaeski), a town on the Via Diagonalis between Adrianople / Edirne and Lüle Burgaz in the Thracian plain not far from Bizye.
---
Note that if the seal belongs to the 'tourmarches' Nikephoros (which is most probable) in that case he is the same person with the violent husband of Saint Mary the Younger (Bizye † 903), for whom we hear from her "Life". Thus this most valuable for the history of the area little piece renders a special interest.
---
The seal belongs to the Dumbarton Oaks Collection, Washington, D.C.
Key words
Byzantine administration.
Byzantine nobility / noblemen.
Eastern Thrace / European Turkey.
Maria the Younger, saint.