Ottoman Vilayets of Europe and the Balkan States in 1910

[Maps]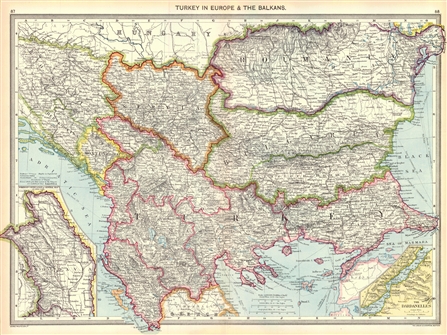 Map title
Ottoman Vilayets of Europe and the Balkan States in 1910
Description
The title of the map: "Turkey in Europe and the Balkans".
---
With insert map of the Dardanelles (at the bottom right – see detailed map: part of the general) and map of Moldavia (at the bottom left).
Map series
Οθωμ. Αυτοκρατορία / Ottoman Empire
Place of publication
London
Scale
1:2.150.000 / 1:2,150,000
Key words
Dardanelles / Hellespont.
Eastern Thrace / European Turkey.
Edirne, Vilayet of Edirne / Vilayet of Adrianople.
Late Ottoman – Transitional period.
Northern Thrace / Eastern Romelia.
Northern Thrace / Southern Bulgaria.