Constantinopolitan leading merchants in Bačkovo Monastery, 1643

[Photos]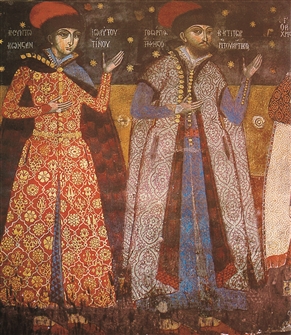 Title
Constantinopolitan leading merchants in Bačkovo Monastery, 1643
Description
The Temple of the Dormition of the Holy Mother of God of the Bachkovo Monastery, photo 09. The Constantinopolitan archon Georgios and his son Konstantinos, two leading merchants who spent lavish sums on the wall-paintings of the Bačkovo Monastery (Panagia Petritzonitissa) in 1643, are depicted as ktetores (founders) in the narthex of the katholikon (main church). They wear most luxurious garments, cut from the gold-brocaded silks of Bursa, and opulent hats trimmed with fur. The grandeur of the entire scene echoes founders' portraits from the Palaiologan period. In Ottoman times, the great merchants bore the title of archon.
Key words
Constantinople / Polis / Istanbul.
Stenemachos / Asenovgrad.
Wall painting / Mural painting.