Saint Zosimos of Sozopolis / Sozopol, icon of 1847

[Photos]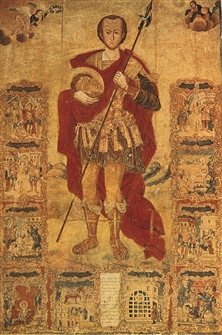 Title
Saint Zosimos of Sozopolis / Sozopol, icon of 1847
Description
Apollonia-Sozopolis (Bulgarian Sozopol). `Saint Zosimos in Sozopolis of Apollonia', as the icon is inscribed,in Greek replaced the worship of Apollo. Scenes of his martyrdom surround the image of the local saint. The icon was painted by Demetrios the Sozopolitan and dedicated by the professional guilds of the Greek community of Sozopolis in 1847.
---
The icon is in the church of Saint Zosimos in the historical centre of Sozopol, Bulgaria.
Key words
Apollonia / Sozopolis / Sozopol.
Professional guild, guilds.